Decontamination
Decontamination from Matom
The unique process from Matom uses controlled chemical reactions in successive steps to remove contaminants from the surface and subsurface of materials such as metal and concrete.
Matom's decontamination process is most frequently the best solution when one or more of the following conditions prevail:
Multiple contaminants are to be removed in one process, such as chemical compounds and radionuclide fingerprints.
Other methods are ineffective due to leach back and depth of contamination.
The residual contamination level required is very low (e.g. for safe re-use of item).
The item has a high scrap/re-use value.
Waste minimisation objectives require a high volume of free release and very low volume of contaminated materials.
There are Health and Safety or engineering constraints limiting the use of alternative methods (e.g. flammability, airborne contamination, toxic/explosive gases or corrosivity).
The contaminated surface is a challenging configuration (e.g. equipment such as valves, internal pipework).
OPERATION
Our decontamination solution is provided as a fully managed service.
The type of contamination determines how the process is applied. For example, on large surface areas, such as concrete, our specialist operators apply each sequential chemical formulation as a fine mist which is mechanically agitated, allowed to dwell for a determined period, rinsed and vacuumed. On smaller targets, the decontamination process is enhanced with ultrasonics in order to reduce dwell times and increase throughput.
Contaminant levels are reduced by up to 90% per cycle. The duration and total number of cycles is determined from initial contaminant concentrations and final concentration target levels.
Waste is neutralised then stabilised using grouting or absorbent polymer. The waste product can also be incinerated.

HOW IT WORKS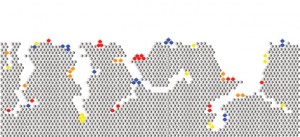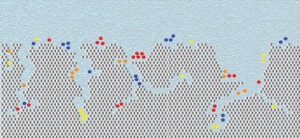 1. Contamination electrostatically bonded            2. The process breaks electrostatic bonds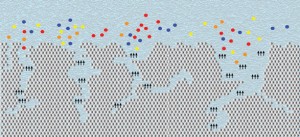 3. Flotation chemistry lift contaminants                 4. Contamination complexed into solution
BENEFITS
Highly effective at removing alpha,beta and gamma emitting radioactive contaminants
Removes surface and subsurface contaminants
Reduces both primary and secondary waste
Sub surface penetration in wide range of metals including MIL and HY spec
Able to penetrate deep into gel pores/atomic voids of substrate
Prevents Contaminant Migration
Contaminant Held in Solution
Removes Electrostatically Bonded Contaminant
Non-destructive Technique
Non- RCRA
Over 96% success rate on first cycle
Highly targeted chemistry
Engineered, sequential chemistry
Highly scaleable and deployment globally
Please contact us for more information