Matom awarded 3 year contract at Oldbury Power Station
Matom is delighted to announce that it has been awarded a 3 year contract for the provision of the Health Physics Supervisor and  multiple Health Physics Technicians at the Oldbury nuclear power station.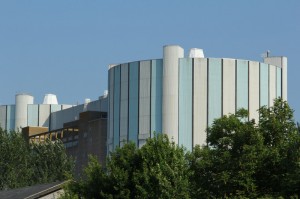 Oldbury power station, located on a 71 hectare site 15 miles north of Bristol on the south bank of the River Severn in South Gloucestershire, is a twin reactor station. After 44 years of safe operation, Oldbury stopped generating in February 2012. During its lifetime, the site generated over 137.5 TWh of electricity – enough to power 1 million homes for 20 years.The station with two reactor vessels each containing 26,400 fuel elements draws supplies of cooling water from the River Severn.
Matt Tuck, Managing Director of Matom Ltd commented; "We're very pleased to have been awarded this contract, particularly in the early stages of Oldbury's decommissioning programme. Matom brings a wealth of experience in decommissioning and radiological protection and we look forward to working with the site as it works towards, and through, the care and maintenance phase of the decommissioning of Oldbury."